Research and Innovation | News | 10 November 2017
PLANET Grant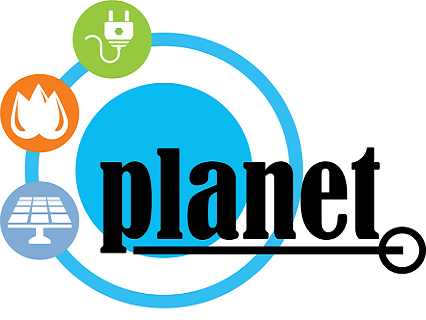 HYPERTECH Energy Labs have been awarded a new R&D contract from the European Commission (Project: PLANET - Planning and operational tools for optimising energy flows and synergies between energy networks
The PLANET aim is to design and develop a holistic Decision Support System for grid operational planning and management in order to explore, identify, evaluate and quantitatively assess optimal strategies to deploy, integrate and operate conversion/storage systems on the distribution grid of several energy carriers within boundary constraints of real deployments outlined in the future energy system scenarios. Such tools are crucial for policy makers and network operators who need support in decision making process.
The simulation of the integration between electricity, gas and heat networks models, together with conversion/storage technologies models for power-to-gas, power-to-heat and virtual thermal energy storage, will help to understand and quantify how these conversions can affect network stability, reliability and responsiveness as well as to optimize these metrics across networks.
The PLANET tools will be demonstrated and validated using information from the actual premises and customers of two distribution network operators in Italy and France. They manage electricity, natural gas and district heating networks, hence they provide a solid testbed corresponding to real-world solution deployments to evaluate the actual benefits of PLANET solutions.
Hypertech Energy Labs constitute a leading member of an international consortium of renowned academic and industrial partners, led by Politecnico di Torino (Italy) and actively involving Teknologian tutkimuskeskus VTT Oy and Vaasaett LTD AB OY (Finland), Iren SPA and Fondazione Links – Leading Innovation and Knowledge for Society (Italy), Ethniko Kentro Erevnas kai Technologikis Anptyxis (Greece), Grindrop LTD and ITM Power (Trading) Limited (UK), Forschungsgemeinschaft Fuer Elektrische Anlagen und Stromwirtschaft E.V. (Germany), Sorea (France) and Merit Consulting House SPRL (Belgium).
HYPERTECH will lead WPs on System architecture design and energy system projections, Grid and Networks simulation, management and global demand coordination framework.
PLANET is a project co-funded by the European Commission under the H2020 Programme/ Topic LCE-05-2017 - Tools and technologies for coordination and integration of the European energy system. The project has officially been launched on November 1st 2017, its duration is 50 months and it has a total budget of €3.9M.
The main objectives of the project are:
To develop cost effective and highly efficient human-centric Virtual Energy Storage using power-to-heat conversion capabilities in the European building stock. To further develop and optimize the integration of power-to-gas and system for decentralised energy conversion deployment in the distribution grid.
To provide policy makers & network managers and operators with the necessary tools for the grid planning, optimization, impact assessment and operational management through enhanced interconnection between diverse energy networks with the deployment of decentralized conversion/ storage solutions.
To contribute to the creation of a viable route for the adoption of decentralized storage/conversion solutions in the Energy Union by means of a market-driven policy.
To contribute to the creation of new regulation recommendations for changing energy environments and policy suggestions to improve market efficiency.