Digital Communication | Research and Innovation | News | 20 March 2015
Advanced Search Engine of Cultural Content for Mobile Devices Using Augmented Reality Technology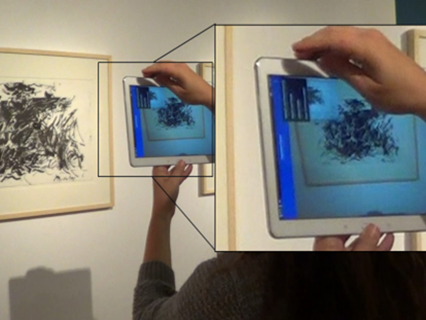 Trek Innovations SA, the Thessaloniki based affiliated company of HYPERTECH, implemented and successfully completed the R&D project entitled "Mobile Search: Advanced Search Engine of Cultural Content for Mobile Devices Using Augmented Reality Technology".
The project aimed to create a sophisticated engine for mobile devices, for the promotion and dissemination of the cultural heritage, using state-of-the-art 3D object search, routing recommendations and augmented reality technologies. The implemented project services target to provide, among others:
Advanced visual search and retrieval services on multimedia cultural resources
Recommendations on alternative indoor tours or outdoor cultural/touristic routes
Personalised and adaptive user experience assisted by attractive augmented reality techniques
The produced project results were successfully evaluated and validated in two representative pilot cases:
Indoor scenario, took place in the exhibition halls of the State Museum of Contemporary Art
Outdoor scenario, organised and executed in the historical centre of Thessaloniki
Mobile Search, was a collaborative R&D project funded by the Hellenic General Secretariat for Research & Technology (GSRT).