Digital Communication | News | 30 October 2019
HYPERTECH signs a new three-year framework contract with ESPON EGTC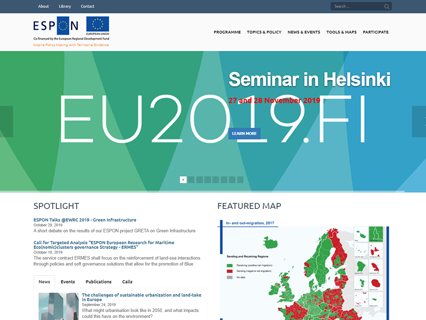 HYPERTECH was assigned a three-year framework contract to host and maintain the ESPON website, the ESPON EGTC e-Tendering Platform and all the existing and new ESPON web applications and tools as well as provide support regarding website related issues and web development of new functionalities and applications.
The main tasks expected to be performed during the contract period are the following:
Setup an appropriate web hosting cloud environment, which can guarantee performance, bandwidth, fast networking, high availability with minimal service interruptions, frequent backups with restoration solution and sufficient storage capacity.
Perform seamless, lossless and fast migration of all the ESPON applications, their content, stored files and functionalities from the previous to the new hosting environment.
Provide regular hosting and maintenance services by constantly checking, monitoring, testing, and updating the cloud environment and ensuring high standards for all the running systems.
Develop additional technical solutions such as new web applications and functionalities, improve User Experience (UI/UX) and Search Engine Optimisation (SEO) practices as well as provide consultation regarding the evolution of the ESPON tools and the programme in general.
ESPON started its operations in 2002 and has continued since then building a pan-European knowledge base related to territorial dynamics. The ESPON 2020 Cooperation Programme is financed by the European Regional Development Fund, the 28 EU Member States and the four Partner States (Iceland, Liechtenstein, Norway and Switzerland). The Programme plays an important role in supporting policy development, institutional capacity, effective policy making and efficient public administration with European territorial evidence.