Digital Communication | News | 05 January 2016
Interactive social network platform for Fyli municipality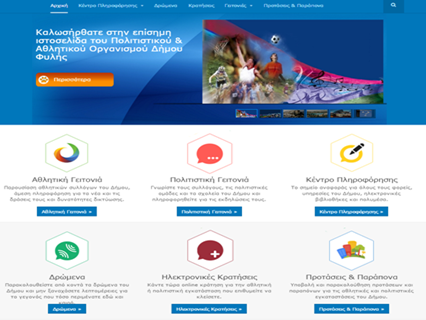 The portal created a modern framework for integrated and flexible services for accessing sports facilities (for citizens, Sports associations, stakeholders, etc.) and promotion of the activities of sports and clubs in the municipality via social community features.
The portal provides integrated information for all available installations, sport events and activities and uses social interaction, calendars, pictures and videos. It utilizes digital cartography, suitably updated to present all the necessary spatial data and information specifying the locations of sports facilities, points of interest and events, based on the digital content of the municipality and the material posted by users.
Additionally, the system promotes activities of sports and cultural clubs in the region including social networking features like micro-sites/ profiles of sport and culture clubs, walls, groups, multimedia content exchange etc.
The system provides also online booking facilities, where citizens can quickly and easily make reservations for specific dates and time. Citizens can use the swimming pool, the soccer fields, or basketball courts, etc. of the municipality by booking them online and in real time. The system also manages citizen requests and complaints related to the managed sports facilities ensuring good operation and safety of the installations and events.
Fyli (Greek: Φυλή) is a municipality in the northwestern part of Attica, Greece. It lies in the northeastern corner of the West Attica regional unit, and is a suburb of Athens. The municipality Fyli was formed at the 2011 local government reform by the merger of the following 3 former municipalities, that became municipal units: Ano Liosia, Fyli and Zefyri. The municipality boasts a population 50.000 citizens.